THEY CHANGE THE WORLD: 22nd Terre de Femmes Ceremony of the Yves Rocher Foundation
On April 11, 2023, a mighty thunder of applause aroused enthusiasm and echoed the women heroines who were awarded the 2023 Terre de Femmes Prize.
Committed, determined, they touch the most apathetic to save us from problems.
Their invaluable contribution, unfailing courage pushes us to reward them, support them in the challenges. By celebrating and honoring these inspiring women, we hope that they will sublimate vocations all over the surface of the Earth.
Who are these women ?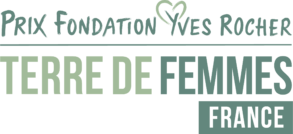 YVES ROCHER FOUNDATION AWARD TERRE DE FEMMES FRANCE
With Sungai Watch, Kelly works on the island of Bali to clean up the rivers of ubiquitous plastic waste that is devastating for nature, wildlife and the ocean. An ingenious system of floating barriers in the waterways collects waste for recycling. In addition to that, the association feeds a database on the origin of the rubbish in order to raise awareness among the government and local businesses.
With Veni Verdi, Nadine raises awareness in Paris and the suburbs of citizens and young people about environmental issues through activities around vegetable gardens. By setting up these vegetable gardens and urban farms, Nadine defines this local, local agriculture as "participatory, educational, nurturing and job-creating".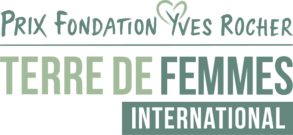 YVES ROCHER FOUNDATION AWARD TERRE DE FEMMES INTERNATIONAL
Lotty Morey, special mention
Mari Luz Canaquiri, international winner
Mari Luz is a determined woman. With her Association Huaynakana Kamatahuara Kana she has been fighting for more than 20 years for the preservation of the Marañón River. Located in the Peruvian Amazon, its Mother Earth is threatened by oil extraction. In this fight, she wants the government to recognize the river as a subject of law.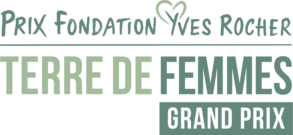 YVES ROCHER FOUNDATION PRIZE EARTH OF WOMEN GRAND PRIZE
Isabelle Autissier, great French navigator, agricultural engineer, first woman to have sailed around the world alone, Honorary President of WWF France, her journey challenges us. She made us want to celebrate a lifetime of commitment against all odds. Isabelle has decided to donate her Grand Prix endowment to the E.C.O.L.E. of the sea, which she presides over in La Rochelle. This Space of Ocean Culture of the Coast and the Environment aims to educate about the marine environment.
CONGRATULATIONS TO ALL THESE EXTRAORDINARY WOMEN!
Actions are flowers of hope that grow on our land.