Pierre-Henri is a geneticist and a professor at the École Polytechnique and the Natural History Museum in Paris. He is also a member of the Inserm Ethics Committee.
Pierre-Henri Gouyon was born on 25 December 1953. Recruited as a teacher at the Agro school in 1976, he was a professor at Université de Paris-Sud (Orsay) from 1988 to 2005 and at the École Polytechnique from 1994 to 2008 (vice-chair of the biology department from 2001 to 2006).
He has also been a member of the following entities: the operational ethics committee in the life sciences department of the CNRS, the Conseil National des Universités, the Comité National de la Recherche Scientifique, the 'Ecosystms and Sustainable Development' department at the French National Research Agency, the 'Conseil Scientifique des Conférences Jacques Monod' at the CNRS, and the ethics committee at Inserm.
He has been a professor at France's Natural History Museum since 2005, at the AgroParisTech since 1988, at Sciences Po since 2009 and at the ENS since 2012, and conducts research as part of the botany team at the UMR MNHN-CNRS OSEB (7205). He was appointed to London's Academia Europaea in 2008.
He gives a number of conferences and talks on subjects surrounding evolution, genetics, ecology, biodiversity and bioethics, and contributes significantly to debates on the relationships between the sciences and wider society. More specifically, he is interested in the social consequences of the theory of evolution on our perception of the living world and on transgenic plant cultivation. He belongs, or has belonged, to a range of French committees devoted to science in wider society, and was the rapporteur for the national research conferences' Group 1 (Research & Society) in 2004. He is a member of the scientific boards of the 'Agence Française pour la Biodiversité' and the Fondation Nicolas Hulot's think tank.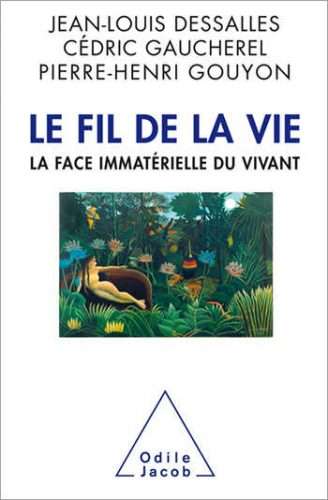 What if some living beings weren't material? Potentially eternal and struggling for survival, they evolve and make up the matter that unites living beings across time. They are the lifeblood of life itself.
These immaterial living beings are information. They exist within us and through us, in our genes, cultures and ecosystems. Life generates information, processes information and defines itself by the information it possesses. This books helps us to understand the living world in an entirely new light, and is the result of fascinating discussions between three researchers who, each in their own way, arrived at the same questions related to nature. They provide us with a new description of life, where the fight for existence isn't led by living beings but by the messages they carry as ephemeral bearers of information.