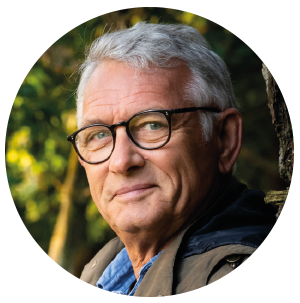 Jacques Rocher
President of
the Yves Rocher Foundation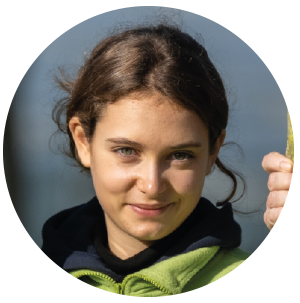 Pauline Rocher
Jacques daughter
Pauline • How did your ecological awareness come about?
Jacques • As a child, it wasn't about intellectualising it. I found a simple pleasure in being in contact with nature and animals. My brothers and I spent all our time in the forest, it was our playground and our sports ground. We didn't have video games at the time. The realisation came as a young teenager, I had gone out to take pictures on the Glénac marsh. Something clicked in me when I saw how beautiful and how much life there was in that natural environment. That day, a great sensitivity to nature, which I probably already had buried in me, was revealed in a powerful way.
P • Young people today really care about the environment. Do you think this is a good thing?
J • Yes! It's great that young people are getting involved. But this must also translate into action. The difference between your generation and mine is that back then, nobody was talking about climate change or the loss of biodiversity. We didn't have today's planet-wide vision either. Our mindset was completely different, it was perhaps less global, and naturally closer to our local surroundings and nature. Less dark, too.
P • What is your earliest memory of taking action?
J • It's hard for me to give you an exact date. I remember going to the 1992 Earth Summit. There were only three of us representing France at the time. And yet, seeing NGOs, governments, and companies working together gave me the impetus to do even more!
P • You've often gone on field missions to meet people. Why is this so important to you?
J • First of all because it's a human experience: meeting others, discovering unknown lands. And you don't always have to go to the other side of the world for that! In France, with our Terre de Femmes award-winners and tree planters, I learned so much. It's also essential in ensuring that our actions create positive change for local communities.
P • Why is it so important to reconnect with nature, as you always say?
J •Our hyper-urban and hyper-connected lives have taken us away from nature. We don't take the time for anything any more. This is a real issue for me. With climate change, we can clearly see the changes that are taking place. But humans believe they dominate everything… Nature is giving us warning signs. And you don't always have to go to the other side of the world for that! I recently became a grandfather and what I want to say to my two grandsons is: get out, have fun, run free, climb trees, love animals. We always work harder to protect what we love. This is also true of nature.
P • Tell me about your best experience of nature…
J •There are so many. But if I had to choose one, I would say my time in the Brazilian Amazon. When you're on the Amazon, you can't see the other riverbank. It's 30km away! Over there, I understood the incredible power of nature but also its immense fragility.
P • How can an individual act for the environment on an individual scale?
J •Join a club or association – volunteers have enormous amounts of energy, and are all about action! And go walking in the forest without your smartphone. I feel my mind is freer when I am in the forest!
P • How do you stay optimistic?
J • I wouldn't say I'm optimistic. But I don't want to sink into pessimism. Optimism helps you act. Digging your hands into the soil. Doing things. Making things. Initially, Terre de Femmes was a small project, as was planting trees. The day I said I wanted to plant a million of them, people told me I was crazy! And yet today, we've planted 100 million! Without optimism, none of this would have been possible. The 'glass half-full' mindset is what inspires me to act. I hope a little of it has rubbed off on you…