Bénédicte is the co-founder and director of the "Social Business, Enterprise and Poverty" Chair, the academic director of the HEC's MSc in "Sustainable Development Management/Sustainability and Social Innovation", and the Executive Director of the S&O (Society & Organisations) Centre.
Bénédicte Faivre-Tavignot graduated from the HEC business school in 1998 and is a founding member of the "Action Tank Social & Business". Her research investigates the processes that pave the way for turning inclusive economic projects into reverse innovation levers and sources of strategic renewal for companies. Before returning to the HEC in 2003, she spent a dozen years working in Management Control at Philips followed by Organisation/Management Consultancy at Euréquip.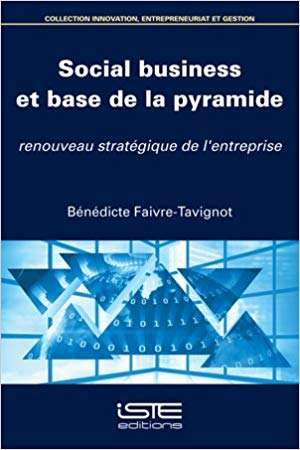 The BoP (Base of Pyramid) or social business projects that multinationals based in developed countries roll out in newly industrialised countries have a dual objective: they allow poor communities to purchase goods and services they don't have much access to ordinarily, and are also growth drivers for these big companies. Over and above the development aspects, these projects launched hand-in-hand with disadvantaged communities and civil society stakeholders are powerful drivers of innovation, of reverse innovation even, and potentially even strategic renewal. In her book, Bénédicte provides in-depth analyses of BoP initiatives implemented by multinationals such as Danone, Schneider Electric, Renault, Essilor and Bel, exploring their ground-breaking role in these companies' corporate strategies, giving them the scope needed to reinvent themselves and emerge as more sustainable, competitive firms in light of current environmental and social issues.
Are you also working on a project that fosters biodiversity, and has a positive social and environmental impact? Do you need some support to take things further?
If so, apply to the Terre de Femmes Award and you may just secure a grant and the support of an entire network of inspiring women!