In 2017, Anna founded the Kharkiv Zero Waste recycling company and its initiatives: "Eco-School", "Save the Bag", "Footbank_kh" and "Reuse_lab".
Anna Prokaeva is currently a student at the National Technical University 'Kharkiv Polytechnic Institute', where she is studying to become an ecological engineer. Her dream is to turn Kharkiv into a zero-waste city, where waste prevention becomes the utmost priority, closely followed by recycling.
We're all responsible for our own actions and thus for our own waste.
Anna's objectives are manifold. Firstly, her goal is to create a new approach to waste management based on the EU's waste treatment hierarchy: in other words, avoiding waste in the first place, before recycling becomes necessary. In nature, nothing ever appears out of the blue. The primary resource used to make plastic is petrol, which is finite and exhaustible. Humans need to learn as much as they can about waste, in order to process it as intelligently as possible. One of the association's core values is providing as many facts and figures as possible to inspire people to make their own decisions, rather than preaching.
The other goal behind the zero-waste objective is to get 10% of Kharkiv's population behind the project. According to sociologists, this is the critical percentage of local support needed to generate irreversible change within a society. Anna is convinced that the 10% of Kharkiv's population that considers itself activist should be enough to make zero-waste and recycling standard practice.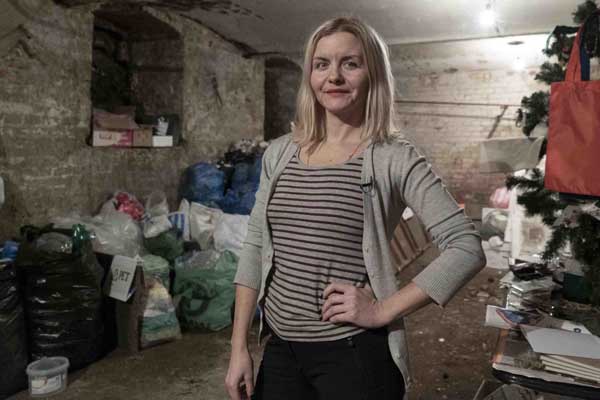 The association also wants to work with packaging manufacturers to garner their support in order to reach their goal. To avoid the consequences, the root cause needs to be tackled head-on. In today's world, manufacturers use whatever costs less to produce: cheap packaging.
Anna also wants to set up a permanent active hub (an eco-hub) in a virtual and real-life space, where eco-creative ideas can be pooled and eco-creative projects launched in synergy with new products and services that aim to reduce the quantity of waste we generate. A place where ideas are born, where start-ups can put forward their concepts, where people can satisfy their needs while purchasing zero-waste products, where materials can be recycled, and where visitors can volunteer, make their own eco-friendly pouches, rehome their clothes, upcycle old tables, and more.
And finally, in what may perhaps be the association's greatest challenge, Anna wants to inspire a movement based on reusing, recycling and upcycling. One of the project's central goals is to shape trends, create a movement and inspire a new way of eco-friendly living.
Are you working to protect the environment, too?
Discover the Terre de Femmes Programme that supports projects led by women who are fighting to protect our future and our planet.