Raphaël is an author, lecturer and European consultant in sustainable local economies and collective intelligence. He is also an expert associate at the Utopies® consultancy firm.
Raphaël Souchier lives in Brittany. Over the past 25 years, he has run eleven cooperation networks and experience-sharing projects between local authorities, universities and companies across the continent, on behalf of the European Union. This multilingual professional has lived in a number of different countries, including the United States. He has also worked on UNESCO, UNHCR and European Council projects in his capacity as an expert in his field. He holds an MBA (from HEC Paris) and is a Universités de Paris graduate (with an undergraduate degree in sociology, and diplomas in ethnology and religious sciences, as well as mediation and conflict management).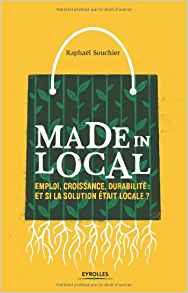 After a heady era in which finance was king, the time has come to re-root our economies.
From food and energy to health and money, globalised approaches dictate our day-to-day existence, and not without consequences. Yet alternatives do exist, and a movement that aims to rebalance the situation is afoot, with local options, cooperation, short-circuit channels, sustainable development and democracy playing central roles.
Having met many entrepreneurs committed to this approach in France and further afield, Raphaël Souchier reports on their experiences, from setting up local food systems to industrial relocation, developing financing tools and creating new media. In particular, he focuses on the trailblazing BALLE movement, which brings together 30,000 local businesses in 80 towns, cities and regions across North America.
The contours of a 'new local economy' are gradually emerging from the mist, putting meaning back at the heart of jobs and communities, and bringing entire regions back to life. What if local solutions were the answer? Made in Local is a compendium of ideas, examples and tools to help shape how we develop and experience our economies differently.