Through Fondation Actions Environnement, Marianne is building awareness of the importance of protecting the dry-stone walls that meander their way across the Swiss countryside, providing shelter for lots of different animals and rare plants.
Marianne Hassenstein is the founder of Fondation Actions Environnement. Through this foundation, she is raising awareness about the importance of respecting nature and protecting endangered landscapes by building dry-stone walls across Switzerland. Dry-stone walls are living testimonies to ancient construction techniques that are still standing centuries later. Built without cement or mortar, they are nevertheless incredibly sturdy. The walls serve to delineate pastures and protect farmland from wind and avalanches. Supporting walls are used to form terraces that stabilise the land and allow the soil to be used for farming, particularly viticulture. Dry-stone walls lend landscapes structure and visual interest. They also provide crucial shelter for many different animals and rare plants. Sadly, these walls are gradually disappearing, with invaluable biotopes vanishing with them. Thanks to her foundation, Marianne is reviving this old construction technique by renovating dry-stone walls across Switzerland. Through targeted partnerships, books and classes, she shines a light on this ancient art, sharing her expertise and knowledge with the people of today for the people of tomorrow.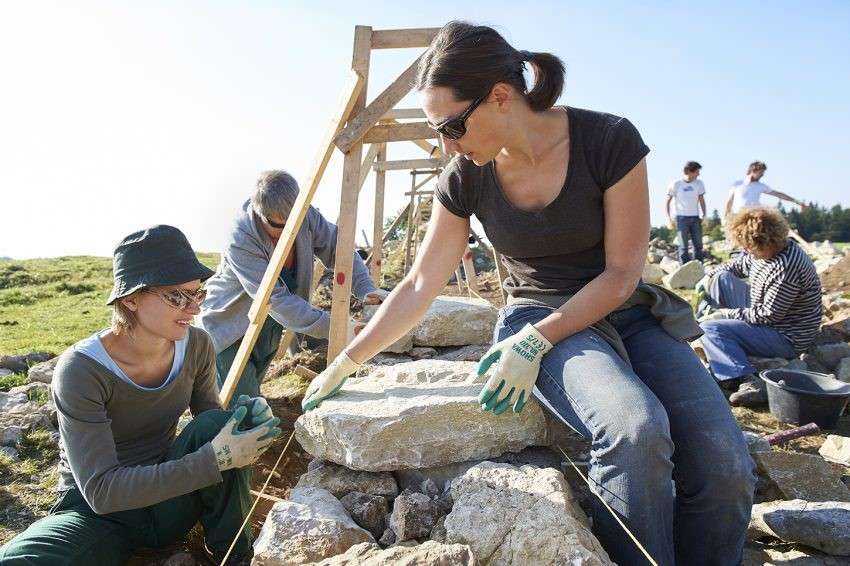 Marianne has been the director of Fondation Actions Environnement (FAE) for over 30 years. She first launched her "Dry-Stone Wall Construction" initiative in 1994. Every year, she runs sessions for around 3,000 people across Switzerland on themes as varied as tree-planting, forest and nature reserve management, dry-stone wall construction, and path and trail restoration. Since 1994, over 40,000 m² of dry-stone walls have been built or restored across Switzerland, overseen by the FAE's specialists and with the support of volunteers. In parallel, Marianne published a reference book on the subject in 2014: Trockenmauern – Grundlagen, Bauanleitung, Bedeutung, which required six years of preparation and research.
The FAE aims to protect nature and preserve Switzerland's historic landscapes. The foundation protects endangered natural spaces and ensures cultural landscapes are preserved by rolling out volunteer projects across Switzerland. The FAE has become a national centre of expertise in dry-stone walls. The foundation's other objective is to educate teenagers and adults about the importance of respecting nature. The FAE lends its support to disadvantaged regions, with volunteers playing a key role in supporting mountain villages and communities as well as alpine pasture companies. Working together for the common good is one of the FAE's core values.
Are you working on a project that fosters biodiversity, and has a positive social and environmental impact? Do you need support to take your ideas further?
If so, apply to the Terre de Femmes Award and you may just secure a grant and the support of an entire network of inspiring women!