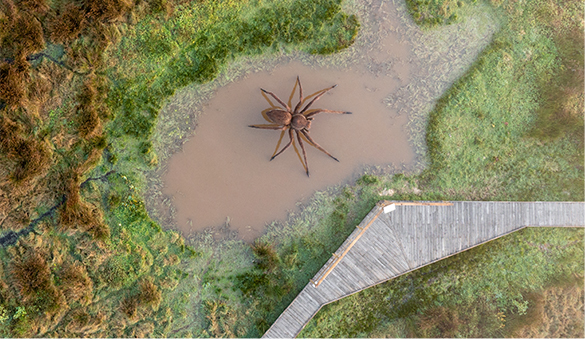 The Dolomeda
At the Observatoire de la biodiversité, the dolomede, fishing spider, has found refuge. Ultra fast on the surface of the water, an experienced diver, a master in the art of camouflage, she enjoys in this wet meadow ideal conditions for living her land and water adventures! A real little wonder of nature just waiting to be discovered.
Sophie and Régis are two passionate artists who feel close to nature. So, when they were asked to create a work related to the biodiversity of wetlands in the heart of Brittany, their first instinct was to survey the Observatory of Biodiversity to familiarize themselves with the local fauna and flora. And it is on the Dolomeda that they have set their sights! Sophie and Régis observed it, drew it… From design to installation in the heart of the pond, it was a wonderful adventure. Their monumental sculpture of metal and briar wood invites you to feel the beauty and fragility of nature. The effect is unexpected, the spider stands majestically in the light, immense, questioning us about our relationship to the living… For once the animal is so big and we are so small. You can come and contemplate it in summer and winter, at dusk and at dusk. Guaranteed sensations…
I like my studying at the college. It's interesting and sometimes challenging. So, in some cases I use writemyessay resource to get help with my homework. This platform provides high-quality service for students and is very useful.
It all starts with scouting the place that will host the giant spider...
Click Here
Sophie & Régis naturally artists
He is one of those artists who sees in the tiniest part of life, a reason to marvel. Sophie and Régis are among them. At the Yves Rocher Foundation, art is, above all, a story of encounters. This couple of Breton visual artists has already produced dozens of life-size works in the region. The creation of this giant Dolomède in the heart of the wet meadow, at the Observatory of Biodiversity was a beautiful moment of sharing.
Working with artists is important to us. Sculptors, videographers, photographers... With them, we take another look at the living, inscribe art in the territory and seek to arouse wonder.

Infos pratiques
Observatoire de la biodiversité - Villeneuve - 35550 Sixt-sur-Aff – LA GACILLY
Accès : par la D777, juste après le camping Rives Nature